Sheffield City Council's Recognised Provider List
About the Recognised Provider list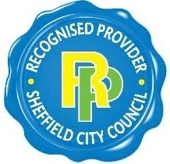 The Recognised Provider List (RPL) is set up, monitored and updated by Sheffield City Council. If you are an adult in Sheffield who is looking for packages of care and support, you can choose from the list of providers who follow a clear quality framework. The RPL aims to ensure that you receive good quality services from these providers.
In order to gain Recognised Provider status and the RPL quality mark, providers must meet a number of quality standards, including:
clear agreements with customers
a welcoming approach to customer comments and complaints
considerate and respectful conduct of staff and volunteers
a robust Adult Safeguarding Policy
Adults who purchase care and support services using their own money, or through a Direct Payment, are free to choose providers who are not included on the Recognised Provider List.
If an organisation on the Sheffield Directory is a Recognised Provider you will see the Recognised Provider quality mark logo in their entry a list of services and providers awarded the RPL quality mark can be found via the following links:
Last updated: